Maui Whale Watching Guide – Maui Snorkeling Tours from Kihei Hawaii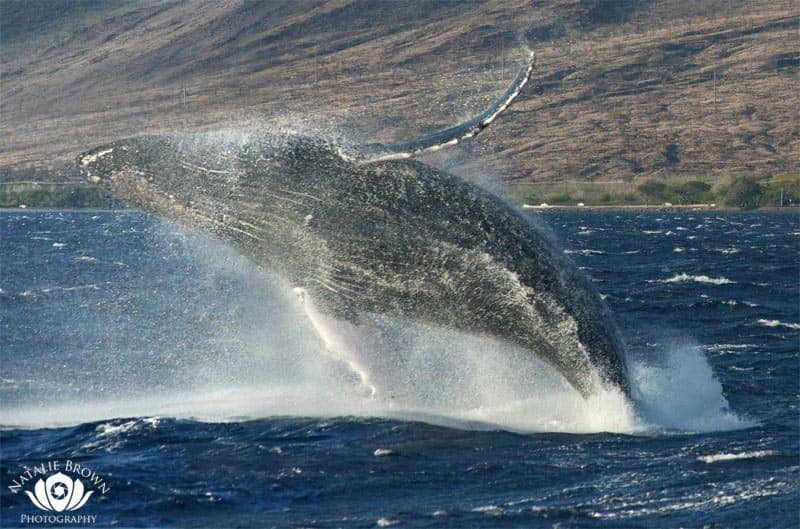 I
f you plan on traveling to Maui between December and April, you're in for a special treat. The Hawaiian islands are one of the best whale watching spots in the world and the winter breeding ground for an estimated 10,000 humpback whales each year. Auau Channel, the shallow area located between West Maui, Lana'i and Moloka'i, is one of the most popular breeding grounds in the state, making Maui an excellent choice for whale watching. While you're able to see the whales from a number of different onshore locations throughout the island, we suggest
joining us on the ocean
for a chance to witness these majestic animals up close and personal.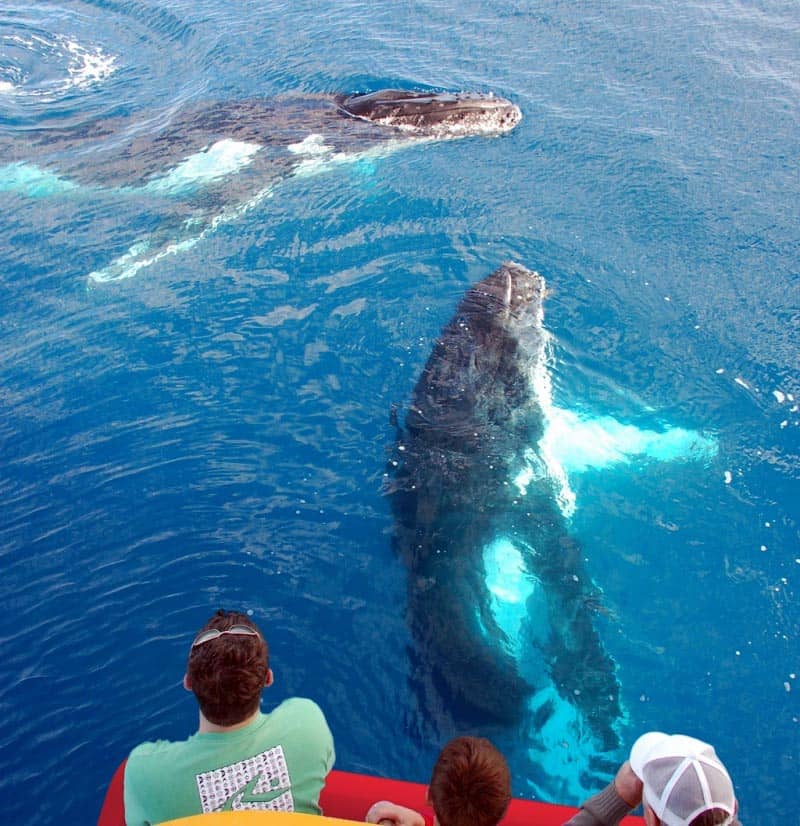 Size & Diet
Humpback whales are the fifth largest whale species, behind Blue Whales, Finback Whales, Right Whales and Sperm Whales. Humpbacks are most easily identified by their large pectoral fins, approximately 1/3 of their entire body length and larger than any other whale species, and white markings on the underside of their body. Adult males reach a staggering average length of 38 to 42 feet, but females are slightly larger at 40 to 45 feet, or approximately the size of a school bus.
While the mouth of a humpback whale is also 1/3 the size of its body, the opening in the back of the throat is surprisingly only about the size of a grapefruit, making humpback whales filter feeders who primarily rely on a mixture of plankton, krill and small fish. During summer months in Alaskan waters, adult whales eat an average of 1 to 1.5 tons of food per day. Humpbacks do not eat the entire time they're in Hawaii, living off of the thick layer of blubber they have built up over the previous months in Alaska.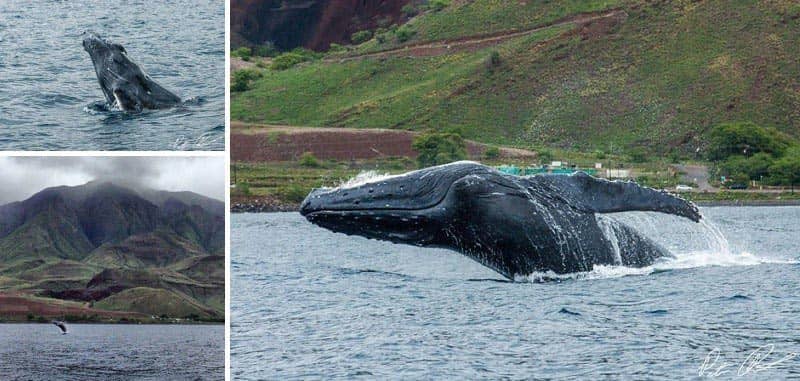 Mating & Nursing
Swimming 2,500+ miles from the Gulf of Alaska to Hawaii over a span of several weeks, female humpback whales come primarily to mate, give birth and nurse their young in the warm, shallow waters around the islands. Females have been found to give birth as frequently as every two to four years, often with many different partners, and remain extremely close with their calves, nursing them for nearly a year and playing a crucial role in teaching them the skills they need to swim and protect themselves from predators (primarily sharks and Orca whales) on the long journey back to Alaska.
Newborn calves typically weigh around 1 ton at the time of their birth and consume approximately 100 pounds of their mother's milk per day. While adults can remain underwater for up to 45 minutes, newborn calves need to surface for air every 3 to 5 minutes.
Male escort whales are often seen with a mother and her calf, swimming singularly or with a group of other escorts in order to show their interest in mating with the female. Competition pods are also common in Hawaii, and aggressive behavior has been witnessed in an effort for the female's attention, although it's ultimately up to the female who she'll mate with next.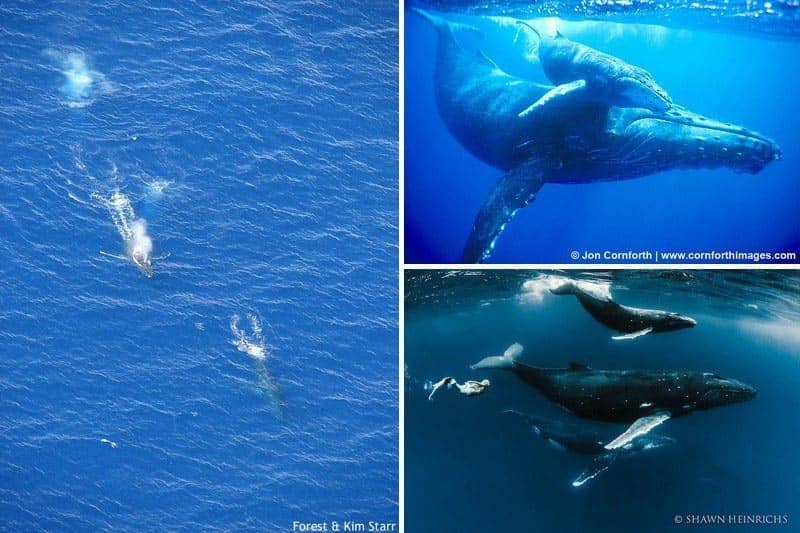 Whale Behavior
Each whale species has its own distinct behavioral traits, and the humpback whales are most often noted for their elegant and unique songs. Males are the singers of the species and have been found to sing the same series of notes, which can span up to 8 octaves, as other males in the group, with subtle changes year after year. Researchers believe this is done as both a mating call and way of communicating with other males.
When you're in Hawaii, make sure to keep an eye out for some of the most common humpback whale behaviors, including: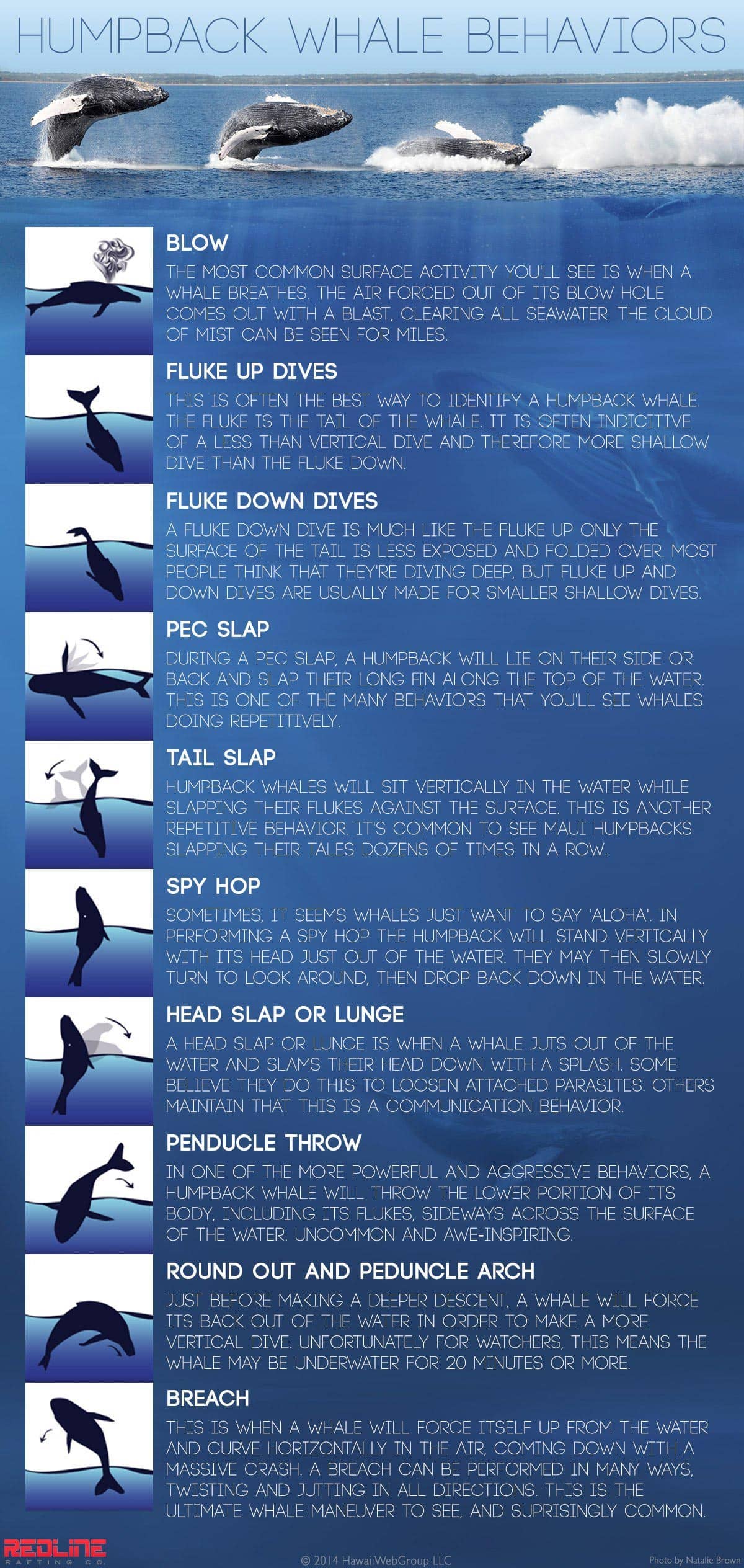 Interesting Facts
Individual whales can be identified year after year by the distinct pattern on their tails.
Although humpback whales are found in oceans throughout the world, the population in the Arabian Sea is the only one that does not migrate.
The saying "Thar she blows!" originated when whaling ships would see the spray of a blowhole during the height of the whaling industry.
In Hawaiian legend, humpback whales are the representation of Kanaloa, the God of Ocean Animals.
Humpback whales are protected under the Endangered Species Act of 1973 and Marine Mammal Protection Act. Under this, it is illegal to harass, injure or kill a humpback whale in U.S. waters.
The scientific name for humpback whales, Megaptera novaeangliae, means "Great wings of New England" due to the enormous size of their pectoral fins.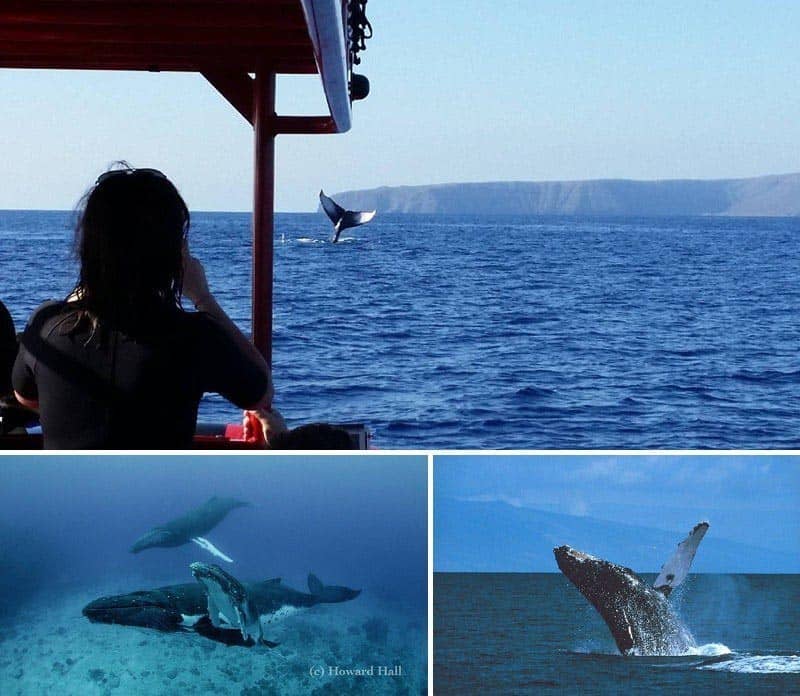 Whale Watching on Maui
Here on Maui, we're lucky enough to be able to whale watch in a variety of ways, including from shore, a boat, stand up paddleboard, kayak, outrigger canoe, and even a helicopter ride or scuba diving tour! Our rafts offer great whale watching opportunities, and we hope to get you out on the ocean with us during whale season.
By law, humpback whales cannot be approached closer than 100 yards, or 90 meters, for safety reasons. On each of our whale watching tours, however, you'll enjoy excellent, up-close views of the whales and bare witness their amazing size, prowess and grace in the ocean.
If you have previously been on any of the larger whale watching boat tours, you'll understand the value of a small group (no more than 24 guests) and vantage point, only a couple of feet above the ocean's surface.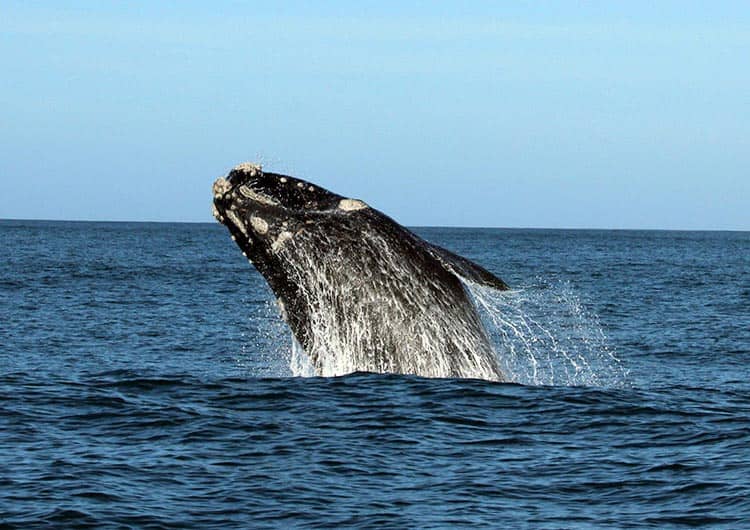 Photos provided by Peter Rimkus, Natalie Brown and Redline Rafting.
Mahalo for reading, and tell us about your favorite whale watching experience in the comments below!