W
hile South Maui is one of the most popular destinations for tourists and residents, few choose to explore a little further south to the historic, scenic areas of
La Perouse Bay
and the Kanai'o Coast. Luckily, we not only take guests to popular snorkel areas such as
Molokini Crater
and
Turtle Town
, but Maui's Forbidden Coast, which offers picturesque views of ancient lava flows, caves, grottos, rugged coastline and pods of Hawaiian Spinner Dolphins.
Exploration of La Perouse Bay
In 1778, English explorer Captain James Cook became the first European to set foot on the Hawaiian Islands. He did not, however, land on Maui. Seven years later, French naval officer and explorer Jean-Francois de Galaup Comte de Laperouse was commissioned by King Louis XVI to finish work from James Cook's voyage, namely to discover new lands and maritime routes, complete maps begun by Cook, establish commercial trade, research areas for potential territories and collect more scientific data. In addition to members of the crew, Jean-Francois also brought along soldiers, oceanographers, botanists, zoologists, geographers, artists and astronomers to aid in his findings.

In 1785, after leaving the shores of France aboard the Astrolabe and Boussole, Laperouse and his team rounded Cape Horn and traveled to Chile and Easter Island before arriving in Hawaii in May 1786. Searching for a location to come ashore, Laperouse and his crew decided on the relatively calm and protected Keone'o'io Bay (now named La Perouse Bay in his honor) on the southern slopes of Haleakala, becoming the first foreigners to ever step foot on Maui. During the following two days, Laperouse and his team visited four small villages in the area, which he documented in his journal.
"The Indians of the villages of this part of the island hastened alongside in their canoes, bringing, as articles of commerce, hogs, potatoes, bananas, roots of arum, which the Indians call taro… I had no idea of a people so mild and so attentive."
In fact, one native Maui Chief even gave an officer his cape and helmet, adorned with red feathers, as a symbol of respect and well wishes. After leaving from the shores of Keone'o'io Bay, Laperouse sailed to the shores of Alaska, California, China, Russian Kamchatka peninsula, the Philippines, Samoa, Tonga and Australia. Following a departure from Australia's Botany Bay in 1788, Laperouse and his crew were never seen again. A later search in 1791 proved unsuccessful, and in 1793, King Louis XVI, on the morning of his scheduled execution, asked his captors, "Is there news of La Perouse?"

It wasn't until 1826 when Astrolabe was discovered near the Soloman Islands, finally confirming his disappearance. Around the same time, an English trader found a European sword engraved with Laperouse's name, which belonged to a native of the island nation of New Hebrides, the colonial name for what is now the nation of Vanuatu. The second ship, Boussole, wasn't identified until 1964.
La Perouse – Then & Now
At approximately the same time Laperouse disappeared, Haleakala Volcano erupted, covering the former villages in a layer of jagged lava, called a'a lava. This was the last recorded lava flow on Maui, and the dramatic black lava rock that covers this area is one of the most unique views you'll see on Maui. While annual rainfall along the coast is only 15 inches, views of lush green pastures and rolling clouds of Upcountry Maui paired with turquoise waves, jagged rock and colorful sunset skies make this an area worth exploring.
If you're interested in experiencing more of Maui's forbidden coast on land, La Perouse is the starting point for the King's Highway, a trail once created by pounding sharp lava rock flat in order to allow King Pi'ilani to circumnavigate the island. The trail, later improved by Governor Hoapili, follows the rugged coastline for approximately 5.5 miles to Kanai'o Beach. Be aware that this hike is very dry, hot and rough due to the surrounding sharp lava rock. But if you're up for a challenge, the views are excellent!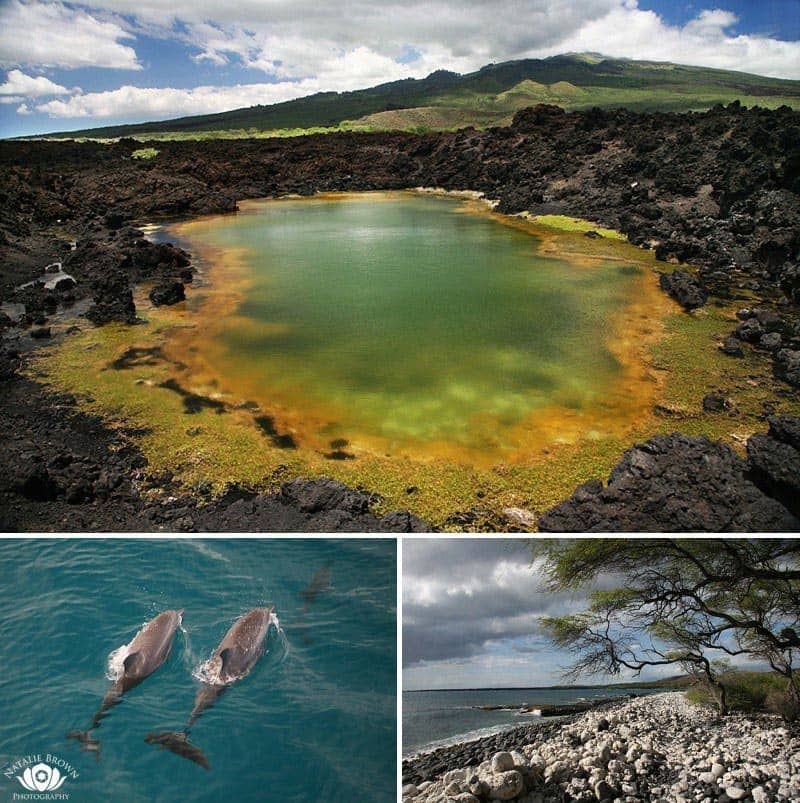 The area surrounding La Perouse Bay is home to several fascinating archaeological sites, including canoe hale, salt pans, fishing shrines, heiau (ancient temples), native coastal plants and more. The bay is also frequented by pods of Hawaiian Spinner Dolphins, which often rest in the calm, shallow bay during morning hours. While snorkeling and scuba diving are possible in the area, our guided tour of the area allows guests to discover the best points of interest with minimal effort. Plus, you may just get a close encounter with some curious dolphins!
We hope to see you out on a tour of Maui's Forbidden Coast with us soon, and as always, mahalo for reading!